Quality standards are central to all Cherrytech activities to ensure we meet, or exceed our customers' expectations. Our quality systems empower self inspection within processes, and encourage ownership of quality at all levels.
Quality Standards
The manufacturing facilities within the Cherrytech Group in both UK and Asia operate Quality Management Systems which maintain our BS EN ISO 9001:2015 registrations.
Cherrytech operate to a minimum Workmanship Standard of IPC610 with the ability to manufacture to higher customer specifications where required.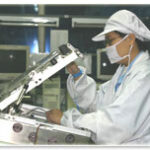 A structured quality system promotes internal and external feedback into our processes to drive continuous improvement programmes, many of which include customer participation.
The UK base provides a technical centre of competence to support the wholly owned Asian facility. This allows the development and transfer of cost effective processes whilst maintaining the quality levels expected by our customers.
Cherrytech's after sales support includes a Return Material Authorisation, (RMA), process which provides us with advanced information of any customer. In the event that product needs to be returned to base, we can pre allocate resource to minimise turn around time and therefore impact to our customer.
ISO 9001 Accreditation | August 2018 | UKAS : BS EN ISO EN 9001 : 2015
Cherrytech produces its own range of specialist packaging to protect products during shipment.
We work with our customers to ensure reuse and recycling of our packaging on a global basis.